About Us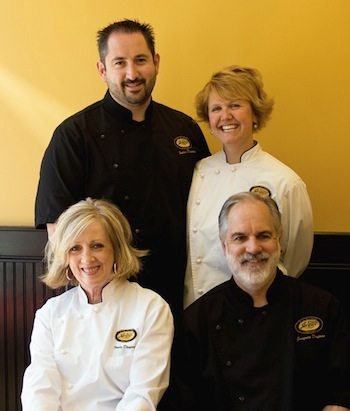 At age 14 Jacques had his first culinary experience while working at his father's restaurant. This inspired him to further his education in culinary arts.

During his time at college, Jacques took the position of Pastry Chef at the
Kennebago Lake Club
; owned and operated by the actor
Kurt Russell's
grandparents
Bud and Ooie Russell
.


At the age of 21, Jacques was given the prestigious role as Executive Pastry Chef at the world renown
Balsams Hotel in Dixville Notch, NH
. During this time, Jacques met his future wife Paula who also worked at the Balsams Hotel.

Jacques wanted to experience new techniques. He decided to travel to Montreal, Canada and accepted a position at
Patissier Rosaire
. Jacques returned to the States and with Paula by his side, they decided to open up their own shop.

Jacques and Paula purchased the building located in Historic Suncook Village. In 1973 Jacques Fine European Pastries doors were opened to the public in the same space where the shop currently exists. The shop would specialize in upscale wedding cakes, all occasion cakes, and French and Swiss style pastries.

Throughout the 80's, 90's and the new millenium the husband and wife team began competing in
Culinary Competitions
. Over the course of their illustrious careers Jacques and Paula have been honored with many awards including the coveted
New York Escoffier Medallion
award,
Boston Best of Show
, Gold Medal
Societe Culinaire Philanthropique New York City
and perfect score in ACF competition.
Today Jacques culinary success has been shown in various magazines such as,
People
,
The Knot
,
Yankee Magazine
and
Grace Ormonde
. The success of this pastry shop is a testament of the passion and drive of a young man starting with a dream and perfecting that dream with his wife. Together with an educated and passionate staff, they are on their way to becoming one of the best pastry shops in the country. What better way to continue this success, but with the "next generation."

Jacques Fine European Pastries is a family business. About a year after they were married, they welcomed their son, Justin Despres, and began their family. From the moment he could sit up you would find him in the pastry shop. He would start the day sitting in a highchair watching his mom decorate cakes and end the day falling asleep on the flour bags.

Through the years Justin has grown with the business. Along with his parents he has received numerous awards in culinary arts. Having gone to many professional advanced pastry classes with some of the top pastry chefs in the world, Justin has been and will continue to be the driving force behind this "one of a kind" pastry shop. Joining him on this journey is his wife Tami.

After completing her education at
New England Culinary Institute
in 1994, Tami resided at Jacques for her second internship. Shortly after graduating in 1995 she decided to stay on at Jacques. The couple got married on September 20, 1997. It seems that things have come full circle, and here we are with the next generation couple carrying on the family dream.